In this hunt, Rod left the girls in Tasmania and headed to Victoria to hunt sambar deer with his good friend, Nathan. 
Victoria is a bit of a deer hunting Mecca, as it is home to pretty much all of the deer species in Australia: sambar, red deer, fallow, chital (axis), rusa and hog deer. 
To hunt in Victoria, the boys needed to make a quick pit stop at a Game Management office to apply for a Victorian Game Hunting Licence. This allows them to legally hunt deer in the state. They headed up the Hume Freeway to Benalla, and with their licenses in hand, made their way to the hunting property in the Victorian High Country.
With the first day taken up completely with travelling to the farm, they didn't get an opportunity to hunt until the morning of Day 2.
But they were up bright at early at 5am, trekking a few kilometres into the surrounding state forest. They heard plenty of deer action (even got honked by a deer in the dark) but didn't see anything. By mid-morning, they stopped for a quick break on the side of a river, where Nath promptly fell asleep. Think he was still a bit hungover from the long boat ride over from Tassie.
Back at the farm where they were staying, the farmer asked them to take care of a pair of foxes that were killing his livestock.
Rod grew up hunting foxes on his family's farm in central New South Wales and had plenty of fox pelts beneath his belt. But Nathan was a Tasmanian and as such, a fox virgin. He'd never even seen a fox in the wild, as Tassie is the only Australian state that is completely fox free. 
There was just one problem. They didn't have a fox call. No worries. Rod used a bit of ingenuity to rig one up using a Jabra bluetooth speaker out of Nath's car, his iPhone, a YouTube video of rabbit noises, and an old tin camping cup to amplify the sound. 
The boys set up their camp chairs in a clearing, loaded Nath's Tikka T3x Forest and settled down for a relaxing afternoon of fox hunting. 
It didn't take long. Within half an hour, the first fox darted across the paddock. Curiosity might have killed the cat but it wasn't above taking out a fox. 
It was time for Nath to pop his fox cherry!
The first bullet boomed out of the rifle, missing the fox completely, but Nath was quick to reload and the second shot found its mark. Needless to say, Nath was pretty excited…  
The next fox ran in real fast, getting to within 5m before the boys even noticed it was there. Nath got the gun to his shoulder and pulled the trigger, but was sure it was a clean miss.
Then he looks down the rifle scope and sure enough, he's got himself another dead fox.
On closer inspection they discover the second fox is a vixen – the breeding pair to the first male. Two foxes in two hours using a little bit of ingenuity! 
Day 2 of hunting and the boys head back out into the forest. It's a warm old day and they've forgone their usual camo and hunting boots for shorts and camo Crocs! 
Even the deer are finding the weather a tad too warm and they stumble across a sambar hind cooling herself on the side of the river. 
It's a meat hunt, so they boys have no qualms in harvesting the hind for meat. While the males are definitely bigger, a sambar hind can still weigh in at a hefty 180kg. That's a lot of meat to carry out. 
With the hind down, the boys must now make a plan to safely get down to her. 
Nath tries his hand at a bit of hunter ingenuity, using his hunting knife as a machete to cut through the thick trees and vines. 
Once the hind has been field dressed and quartered, the boys now have their next challenge – how to get all that meat back out. They can try and cart all that weight back up the cliff face, or follow the river and hope they find a clearing. 
In the end, they go with the latter plan and safely make it back to camp.
The hunt took place on a farm in Buckland Valley that is owned by one of Nathan's relatives. 
Buckland Valley is located just a few minutes drive from Bright in the Victorian High Country. 
Nestled at the base of Mt Buffalo and with Mt Beauty and Falls Creek just a short drive away, the area is well-known for its outdoor pursuits including hunting, fishing, hiking and skiing. 
In this episode, you'll see Rod and Nathan hunting sambar and fox. 

The red fox was introduced to Australia in 1855 as a hunting resource. With a vast array of native wildlife to feed on, the animals soon spread and within 100 years, there were established populations throughout most of Australia with the exception of the tropical north and the islands off the coast of Australia (including Tasmania). 
Foxes are surplus killers, which means they will kill for fun as well as food. This makes them a danger to native wildlife, livestock and domestic pets. Of the 21 completely extinct animals in Australia, the fox and the feral cat have directly contributed to the extinction of 19 species.
The sambar deer are Australia's largest deer species. A fully grown adult male can weigh as much as 280kgs, and an adult female can weigh up to 180kgs. While they are present in many Australian states, the most established populations are in Victoria. 
As an introduced species, sambar are often recognised as pests by environmental groups and green-minded governments, and professional culls are often organised to drastically reduce their numbers. 
But here's where things get a little interesting.
Sambar deer originated in South-East Asia, Southern China and India, where habitat loss and political instability has led to massive declines in their numbers. In fact, in 2008, the IUCN placed sambar deer on their vulnerable list. 
Their healthiest population is in Australia where we view them as a pest to be eradicated. It's the great conservation paradox. One country's pest is another's endangered species. 
Perhaps if Australia changed the way they view the sambar, we could ensure this amazing species of deer does not become extinct. 
Click the image below for a more in-depth look at the sambar deer. 
When hunting for meat, particularly in warm weather, it is important to cool the carcass as quickly as possible. The internal body temperature of a deer is around 38.5 degrees Celsius, which is the ideal temperature for bacteria to thrive.
Some hunters find it messy, but gutting a deer is the quickest way to begin that cooling process. Not only does the meat cool more quickly, it is actually easier and safer to gut an animal while it is still warm. 
That's because decomposition starts as soon as the animal dies. Internal bacteria converts to gas, which causes the intestines and stomach to expand and bloat. The warmer the weather, the faster the animal bloats, which increases your chances of piercing the intestines and contaminating the meat. 
There are other things you can do to cool the carcass more quickly, including removing as much of the blood as you can from the body cavity. While gutting gets rid of some of the blood, there's still quite a bit in the veins and arteries. There's an artery that runs along the spine. After gutting, split this artery and turn the deer back onto its stomach, propping it up slightly to create a natural slope for the blood to drain away.
There is another benefit to removing the blood. You can avoid the coagulated blood sticking to the meat and giving it a strong, bloody flavour.  
As the sambar hind was too large to do a traditional carry out, we quartered her, making sure to remove as much of the meat as we could get to. A handy hint: always carry some cloth game bags in your backpack to store the meat in.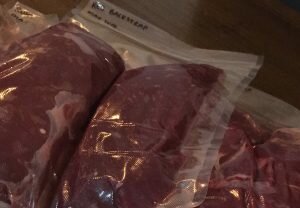 Once back at camp, we cleaned off the meat cuts, sealed them into vacuum bags using a GameSaver, which has a handy 12v adaptor that plugs into a car battery. 
We then popped the meat into an esky (cooler) full of ice, ready for transport back home. Even better, there's no processing left to do at home. We just pop the vacuum sealed bags straight in the bottom of the fridge for a week and we have perfectly wet-aged venison meat for the freezer. 
Below are a couple of recipes we have posted using sambar meat as well as a tutorial on how to field dress a deer for meat. 
You can click on any of the images below to go to the website to purchase or find out more about any of the products that we used in this episode.
We have tried to make the list as exhaustive as possible, however, if we have missed anything that you would like to know more about, please send us an email at team@huntshack.net and we'd be happy to help out.
If you are a member of I Am Hunter, you can save money on some of these products by using your exclusive discount codes available on the Discounts and Rewards page. If you are not a member of I Am Hunter, you can still click on the images to go to the product listings and as always you are more than welcome to join I Am Hunter to access all of our member rewards for yourself.
Watch the full episode (members-only)
The full episode is only available to members of I Am Hunter. Please log in or join I Am Hunter to view.
Where can I watch this episode?
I Am Hunter wants to change the way hunting is perceived and to change the conversation from a negative one driven by anti-hunters to a positive one led by hunters.
Our goal is to help hunters become positive role models and ambassadors for hunting, while simultaneously helping non-hunters understand why hunting is important. 
You can become a supporter and help us achieve our goal and spread a positive message about hunting with the wider community. 
Check out these related articles and podcasts.