Get the resources and information you need to spread a positive message about our lifestyle.
Approximately 60% (US$3.3 billion) of the funding for state wildlife agencies the United States comes from hunters and fishers.
As of 2016, only 5% of the American population actually hunt. The figure in Australia is approximately half that at around 2.5%.
"Now therefore take, I pray thee, thy weapons, thy quiver and thy bow, and go out to the field and take me some venison."
Ep 3: An environmental scientist on hunting
In this I Am Hunter podcast we talk to Daniel Boniface, an environmental scientist, about public land hunting in Queensland and the damage from feral pests.
Ep 2: Hunting South Africa – can you handle the truth?
In this I Am Hunter podcast with professional hunter, Willem Gertenbach, we discuss the truth about hunting in South Africa and what it is really like, and why the western media has got it so wrong.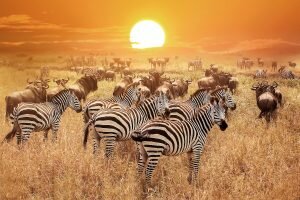 conservation
There's no denying zebra are iconic to the African continent. It's hard to think about Africa without imagining a herd of black and white striped zebra grazing across the open plains. Maybe that's why some find it so hard to imagine why anyone could want to kill one. After all, why would anyone want to hunt a zebra? In this article, we'll explore some of the common questions people have about hunting zebra and look at how hunting and conservation often go hand-in-hand. 
Read More »
From tutorials and product reviews to resources and statistics, you'll find everything you need to improve your chances out in the field and spread a positive message about our lifestyle.