Want to know more about us?
Our vision
I Am Hunter was created to spread a positive message about hunting, both within the hunting community and among people who may not understand or even like hunting. 
Whether you are watching episodes of I Am Hunter on MOTV, reading articles about hunting on social media, watching one of our tutorials on our website, or undertaking a hunter education program, our aim is to change the conversation about hunting and foster a positive community of like-minded hunters who want to make a real difference. 
I Am Hunter's vision is to: 
Teach people how to be safe, ethical, fair-chase hunters who respect the animals they harvest.
Demonstrate hunting conservation in practice.
Present hunting as an organic, sustainable lifestyle. 
Show the positive benefits hunting brings to society.
I Am Hunter is also about giving back.
We donate $20 from every membership to a project or not-for-profit organisation that is doing a fantastic job protecting wildlife or supporting their local communities. Check out our Community Page for more information. 
Rodney
Rod has been hunting for so long, we're pretty sure he popped right out of the womb, clutching his first .22! Growing up in rural Australia, Rod was raised on a strong foundation of safety and ethics.
As a young kid, he earned his first income trapping foxes and rabbits for their fur, and doing crop protection and pest control for local farmers. And, in his free time, he hunted in the surrounding bush.
In 2017, Rod started HuntShack with his two daughters, Jess and Tash as a way to connect hunters with ethical, fair-chase spot and stalk hunting opportunities around the world.
As part of HuntShack, Rod and the girls started filming their own hunting adventures and passing on their knowledge about hunting to their growing audience.
It soon became apparent that there was a gap in the industry for quality, Australian-made hunting content with a strong advocacy and education slant, which was how I Am Hunter was born.
Rod is passionate about passing on the traditions of his childhood to family, friends and anyone interested in learning how to hunt, and uses his in-depth knowledge of hunting and firearms to create educational content for I Am Hunter.
Jess
If there's one thing Jess has always possessed, it's a mind of her own. As a child, she wanted to be a vet, and spent most of her free-time rescuing animals and hiding them in her bedroom!
Her love for animals made her a pretty unlikely candidate for becoming a hunter. At 17, she went on a hunting trip to Outback Queensland with some friends who ran a cattle station there. She quickly learned how hunting is used as a legitimate, ethical tool for managing animal populations, providing for yourself, and also reconnecting with the outdoors.
Eight years later, Jess is an accomplished hunter and all-round outdoors-woman, determined to be a strong role model for her son, as well as other female hunters in the industry.
Jess loves showing people how to improve their hunting skills and best utilise the animals they harvest.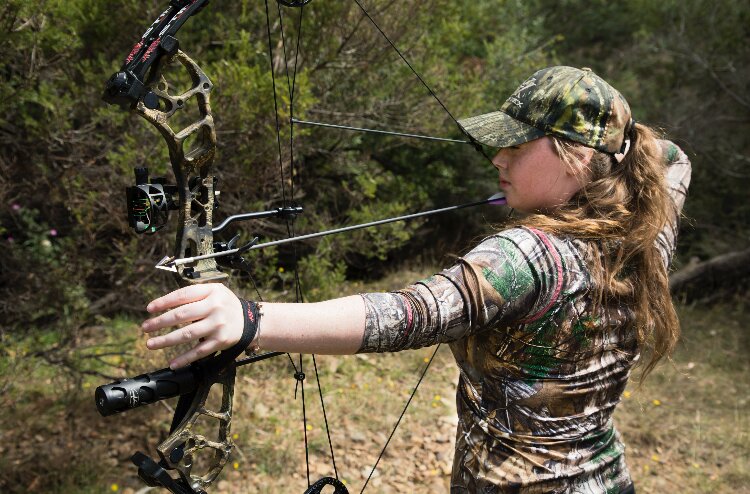 Tash
How do you go from accident-prone middle child to Everybody's Favourite? With quick wit and a winning personality.
As the unofficial and often-accidental comedic star of the I Am Hunter show, Tash's light-hearted approach to advocacy is a breath of fresh air in an industry that often takes itself too seriously.
Tash is also the resident Record Holder for biggest red deer and the only successful bow hunter in the team (no, Jess, ground squirrels don't count), and looks forward to teaching her new baby girl, Amelia, all about hunting. 
Bec
For years, Bec stayed in the background, supporting Rod and the girls from behind the scenes. But that all changed last year, when at 45, she decided it was time to 'bite the bullet' and get her firearms' license.
Bec now uses her newfound passion for hunting and her background in journalism to dispel the negativity and misconceptions spread by the media about hunting. She is the voice behind many of the articles about hunting and how it benefits society.
As a result of her passionate defence of hunting, Bec was approached by the Shooters, Fishers and Farmers Party of Tasmania to be one of their lead candidates in the 2019 Federal election and is now a key member of their committee. 
Do you want to join the I Am Hunter team? We are looking for:
Content creators – are you a passionate hunter, firearms expert, budding chef or have another area of expertise you want to share with our followers? Help us spread a positive message about hunting by becoming a content creator with I Am Hunter
Videographers – are you the next Branlin Shockey? Join our film crew and help create visually stunning video footage for I Am Hunter
Video editors – are you a whizz on Premiere Pro? Know how to create visual storylines that demonstrate the benefits of hunting?
Social media moderators – do you enjoy herding cats and keeping people in check on social media. We are looking for people willing to moderate and manage our social pages and Facebook groups
If you are interested in any of these roles, email team@huntshack.net
Do you want to know more about us and our partners?
We believe in supporting the hunting industry in everything we do. A key part of that is partnering with other companies and organisations who are advocating for and promoting the interests of hunters. By doing this, we can join forces to spread a positive message about hunting, support all of you who already love our sport and encourage new people to learn more about hunting.
I Am Hunter is proud to partner with the following organisations. We also partner with many other outdoor and hunting related businesses to source exclusive member-only discounts and member giveaways. These can be viewed in our Trophy Room. 
BERETTA AUSTRALIA
Beretta Australia is passionate about connecting shooters with the best firearms and accessories available. As a company of expert hunters and shooters, Beretta Australia is dedicated to keeping the traditions and culture of hunting alive for future generations.
Since opening in 2000, they have actively supported shooting events and clubs across Australia. Beretta Australia actively fights for the rights of hunters and shooters in the Australian community.
You can find out more about Beretta Australia on their website, Facebook and Instagram. You can also read their code for responsible and ethical hunting here.
Highveld Taxidermists are true artists. They take great pride in paying close attention to detail and providing you with a unique work of art to remember your African hunting experience. They provide all of the traditional taxidermy options as well as some custom options to ensure your trophy is one-of-a-kind – be sure to check out their hand-carved Zulu shield mounts.
The team at Highveld are more than happy to open their doors and give you a tour through their workshop located just outside of Johannesburg, South Africa. There you can see the amazing work their experienced local artists are completing.
You can find out more about Highveld and the work they do, including pictures of recently completed mounts, on their website, Facebook and Instagram pages.
HUNTSHACK PTY LTD
As the parent company behind I Am Hunter, HuntShack Pty Ltd specialise in quality fair-chase spot and stalk hunting experiences and learn to hunt packages in Australia, New Zealand, South Africa and Mozambique.
HuntShack prides itself on trust and transparency. When you book a hunt through HuntShack, you can be confident that the team has personally hunted the area and can guarantee the type of experience you will have.
You can find out more about HuntShack on their website, Facebook and Instagram pages.
If you're having any issues with the site or need help finding something or accessing any of your member rewards, you can send us an email at team@huntshack.net or alternatively you can fill in the form below and we'll get back to you as soon as possible.