In this hunt, Jess hunts a red deer stag in New Zealand. 
There truly is no greater experience than hunting red deer during The Roar. This occurs during the mating season (March – April) when the mighty red stags are trying to attract the hinds (does) and convince them to join his harem. They quite literally roar, both to attract the hinds in, and to warn off any other stags who might be in the area. And, if another stag does encroach on his territory, you can be sure there's going to be a showdown!
Jess set out to hunt a stag with her bow and had a couple of attempts but in the end, she just couldn't get within range without spooking them.  
The red stag Jess hunted in this episode was a big old 13-pointer. He was holding about 16 hinds in his harem and was so old that his teeth had quite literally worn down to his jawline. Chances are he never would have survived another winter. But he was going to make it a last Roar to remember, passing on his bloodline to as many young as he possibly could. 
The final shot was taken on the side of a hill, 170 metres above the stag. A massive storm was brewing overhead. Rain, hail, wind, lightning. We pretty much had it all, and learned a little while later that a tornado had destroyed several houses in a nearby town.  
A brief history
New Zealand has had a torrid relationship with deer, which were first introduced by European settlers for the wealthy to hunt. Several species were released throughout the country: red, fallow, sika, elk, sambar, whitetail, and chital.
With no large predators to challenge them, deer soon became prolific, damaging the fragile environment. In 1932, the government declared them a noxious pest, and they soon became the target of professional culling teams. Over the next 22 years, over 3 million deer were killed but with so many areas of the country inaccessible, the culls had very little impact on overall deer numbers, until the 1960s when commercial cullers started using helicopters to shoot the deer from the air. Around the same time, the government started using 1080, a sodium fluoroacetate poison, to kill off large numbers.
Had the New Zealand government continued their bloody war on deer, there might not be any deer left in the country. However, they were literally saved by a double V. With new international markets opening up for velvet and venison, deer suddenly became valuable. 
Instead of shooting them from the air, commercial cullers started jumping out of helicopters to catch the wild deer alive. Think of it like the wild west, only deer were the gold, and people were definitely willing to kill each other to find and own them. There were even deer wars!
Deer farming became a thing. Because of their sheer size, the red deer were the most highly prized to farm. 
Wild-caught deer were transported to high-fenced farms and the Kiwis turned their prowess at sheep and cattle farming into deer farming, and New Zealand soon became the best in the world at breeding the very deer they had earlier tried to destroy. 
Today, all seven species of deer still exist in pockets throughout the country, though the red deer has definitely proven to be the most prolific and hardy of all the deer species. As a result, red deer are widespread  and can be found all over the North and South Islands of New Zealand in both high fenced farms and roaming free and wild across public and private lands.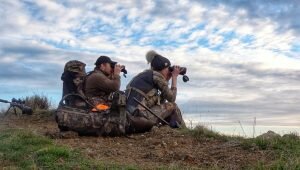 In this episode, we hunted with Brad Berry who runs Ruapehu Hunting. Brad is a bit of an expert roarer and when you're sitting out there in those hills in the early morning mist, it's hard to tell if it's Brad roaring or the red deer. 
The property is a 4200 acre working sheep and Manuka honey farm situated in Ruatiti on New Zealand's North Island. Surrounded by national forest and DOC lands, the property is regularly visited by large herds of free range red, fallow and sika deer.

As you will notice, this hunting area is pretty hilly. That's because it sits in the middle of an active volcano belt, with the North Island's most famous volcanoes – Mount Ruapehu can be viewed from many of the peaks on the property and Mount Ngauruhoe (which you might recognise as Mt Doom from the Lord of the Rings movies) is only a short drive away.
Red deer are present in free ranging herds around the world, including New Zealand, Australia, the United States, Canada and South America. 
The International Union for Conservation of Nature (IUCN) list the red deer as a species of least concern. In fact, many countries including New Zealand have classified the red deer as a pest species due to the damage they inflict on native and cultivated vegetation.
Hunting is one of the most effective and humane methods for keeping populations of red deer in check. Not only are the numbers managed, but hunters can utilise the meat and antlers from the red deer they harvest.
Click the image below for a more in-depth look at the red deer. 
Red deer venison is a lean meat packed with vitamin D and iron. It is similar in taste to the North American elk, and highly sought after by restaurants and chefs around the world. 
As this was an international hunt, and Australia has strict laws around the importation of fresh meats, we were not able to take the whole carcass for ourselves. Still, it would be a crime to leave that much good venison wasting on the ground. We packed the meat out of the hills, cooked up the backstraps, tenderloins and heart back at camp, left one of the hind legs for Brad's family, and donated the remaining meat (well over 100kgs) to a Maori tribe in nearby Rotarua who we are related to through marriage.   
Below you will find a couple of the recipes we have cooked using red deer meat, as well as a handy guide on things that can make venison taste bad (hint: it often comes down to bad handling in the field)
You can click on any of the images below to go to the website to purchase or find out more about any of the products that we used in this episode.
We have tried to make the list as exhaustive as possible, however, if we have missed anything that you would like to know more about, please send us an email at team@huntshack.net and we'd be happy to help out.
If you are a member of I Am Hunter, you can save money on some of these products by using your exclusive discount codes available on the Discounts and Rewards page. If you are not a member of I Am Hunter, you can still click on the images to go to the product listings and as always you are more than welcome to join I Am Hunter to access all of our member rewards for yourself.
Watch the full episode (members-only)
The full episode is only available to members of I Am Hunter. Please log in or join I Am Hunter to view.
Where else can I watch this episode?
If you are an I Am Hunter member, of course, you can watch the episode right here on the I Am Hunter website. 
If you're not a member, you can watch episodes of I Am Hunter on the MOTV network. Click the link below. 
I Am Hunter wants to change the way hunting is perceived and to change the conversation from a negative one driven by anti-hunters to a positive one led by hunters.
Our goal is to help hunters become positive role models and ambassadors for hunting, while simultaneously helping non-hunters understand why hunting is important. 
You can become a supporter and help us achieve our goal and spread a positive message about hunting with the wider community.