Rod sat down with Hayden to have a chat about the Burris Eliminator III. Hayden got very close to breaking the long range record while hunting with us in New Zealand this year, successfully shooting a feral goat at 894 yards (the record is currently unbeaten at just under 1000 yards). Watch the video above for their thoughts on the Eliminator.
Help us keep hunting alive
I Am Hunter has a passion to keep hunting alive. We use education and advocacy to demonstrate the positive benefits of ethical, fair-chase hunting to all society, not just hunters. 
We can provide this content free to the public thanks to the generous support of our awesome members.
For less than 50c a day, members help support the fight to keep hunting alive by spreading a positive message about hunting to the wider community. In return, members get access to exclusive member rewards.
Episodes
In this episode of I Am Hunter, we head to New Zealand to hunt red deer during the Roar.
Read More »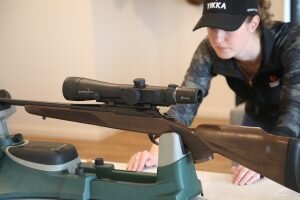 Into the Wild
Learn how to mount a scope. In this step-by-step tutorial, we mount the Burris Eliminator III onto a Tikka T3x Forest in .300 Win Mag.
Read More »