Who doesn't love a bit of Tex-Mex?! We decided to put a bit of an Aussie spin on the crowd pleaser – pulled pork – by replacing Babe with Skippy. Now a word of warning before we begin, you need a reasonable level of fitness to prepare this meal as Skippy has a tendency to try and hop off your plate! Don't say we don't do anything for you guys – that is a free Dad joke right there ready for you to pull out if you do give this recipe a go 😉
Time to prepare: 20 mins (+ 3-4 hrs cooking time)
Ingredients:
1kg kangaroo rump (we used Eastern Grey Kangaroo from a pest control hunt)
BBQ dry rub (just use your favourite)
1 cup chipotle sauce
1 cup BBQ sauce
Olive oil
Method:
Pre-heat oven to 180C (350F)
Cover the kangaroo rump in the dry rub
Heat oil in a deep, heavy-based frying pan
Brown rump on all sides
Place into oven tray
Mix chipotle and BBQ sauce
Cover rump with sauce mix
Cover tray with aluminium foil
Place in oven and cook for approx. 3-4 hours
Serving suggestion: we served ours with homemade coleslaw and it was delicious! You could serve your pulled kangaroo on burgers, with a salad or in tacos.
Help us keep hunting alive
I Am Hunter has a passion to keep hunting alive. We use education and advocacy to demonstrate the positive benefits of ethical, fair-chase hunting to all society, not just hunters. 
We can provide this content free to the public thanks to the generous support of our awesome members.
For less than 50c a day, members help support the fight to keep hunting alive by spreading a positive message about hunting to the wider community. In return, members get access to exclusive member rewards.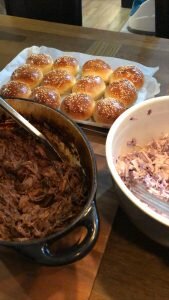 Recipes
Forget the pork. Get some venison on your fork with this BBQ pulled venison recipe. We serve it with a side of coleslaw and homemade sliders.
Read More »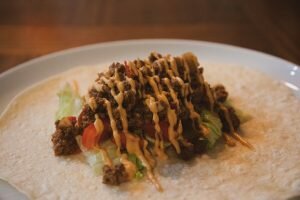 Recipes
There's two things our family loves – Mexican food and venison meat. So it's only natural that we love to combine the two. The benefit
Read More »