The Victorian Department of Health and Human Services has today provided updated information relating to travel and exercise as Covid-19 cases spike across large parts of the state. These changes, which are a significant shift from earlier advice, will impact tens of thousands of licensed Victorian deer hunters living in Stage 3 restriction areas. They will also affect millions of other Victorians who hunt or fish to put food on the table.
The map below shows all the zones currently inside the Stage 3 restriction zone, and includes Metropolitan Melbourne, Mitchell, Yarra Ranges and the Mornington Peninsula. Anyone caught travelling outside fo their local municipality now faces a penalty of $1652.
With the situation changing almost daily, there continues to be a lot of uncertainty among Victorians on what they can and cannot do.
Just last week, Premier Daniel Andrews reassured Victorians inside the lockdown zone that they could travel anywhere within the lockdown zone for recreational purposes.
When asked specifically if people could travel within the zone to fish and take part in other recreational activities like hunting, Andrews reassured Victorians they were free to pursue their recreational activities within the safety of the zone. 
The ruling was designed to keep regional Victoria free of the virus while still allowing people to hunt and fish within the guidelines. 
But as the virus has continued to spread and more municipalities have been brought inside the restriction zone, Andrews has backflipped on his earlier instruction, and has today told people they are no longer allowed to travel outside of their local municipality for recreational activities. 
Andrews has also instructed any Victorians currently staying in holiday homes in regional Victoria that they must now remain in place until the Stage 3 lockdown restrictions end, and cannot return home. 
One thing is certain – as there are very few deer wandering the streets of metropolitan Melbourne, these changes will definitely have a negative impact on tens of thousands of licensed deer hunters now locked down to their local municipality. But look on the bright side, at least Andrews hasn't closed all the gun stores again… yet.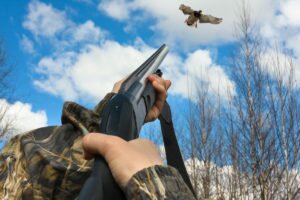 Advocate
Today, the future of duck hunting came under fire in Victoria when Andy Meddick of the Animal Justice Party put forward a bill asking the Victorian
Read More »
Hunting tips
Spot and stalk hunting is an important element in ethical, fair chase hunting. Animals are perfectly adapted to their environment. They blend in and have much better senses that humans, which can make it a challenge getting in close. In this article, I want to show you how to spot and stalk hunt using a few simple techniques I use when I'm hunting wild game. 
Read More »