I Am Hunter team member, Rebecca Byfield, spoke to Jason Selmes from Australian Hunting Podcast in the lead up to the Federal Election to discuss her run in the Australian senate for the Shooters, Fishers and Farmers Party in Tasmania.
Some of the topics discussed include:
SFFP Tasmanian senate candidate Rebecca Byfield discussing her candidacy
Running the Huntshack business and what they do
Her history growing up and living with a family of hunters
The newly developed "I Am Hunter" campaign
Why she got involved with SFFP
Why she wants to represent gun owners and hunters in the federal senate
How she plans to implement policy if elected
The importance of self defence
Appearance laws and suppressors
To check out the podcast for yourself, go to Australian Hunting Podcast episode #195.
Help us keep hunting alive
I Am Hunter has a passion to keep hunting alive. We use education and advocacy to demonstrate the positive benefits of ethical, fair-chase hunting to all society, not just hunters. 
We can provide this content free to the public thanks to the generous support of our awesome members.
For less than 50c a day, members help support the fight to keep hunting alive by spreading a positive message about hunting to the wider community. In return, members get access to exclusive member rewards.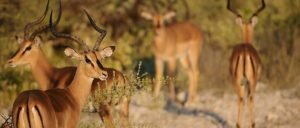 Advocate
Although I had been to Africa before, last year was my first time actually hunting there and I have to say, not only did I
Read More »
Advocate
The Hon. Robert Borsak, SFFP spoke to members of the NSW parliament about animal control and why hunting is necessary for true conservation.
Read More »