Are you a hunter based in or visiting Tasmania? We have put together a list of all the important information for the 2021 Tasmanian hunting season including dates and costs for hunting deer, wallabies, ducks, pheasants, mutton birds, and brown quail, as well as information on hunting vermin, feral and invasive species. 
Who can hunt in Tasmania?
To legally hunt with a firearm in Tasmania, you must hold a valid firearms license and, where applicable, a Tasmanian game license. 
If you are visiting Tasmania from another Australian state or territory, you do not need to apply for an exemption and can legally hunt in Tasmania as long as you hold a corresponding license issued in your home state or territory. You will, however, need to apply for a Tasmanian game license, where applicable, for the species you wish to hunt. 
If you are visiting from overseas, you will need to obtain an International Visitor Exemption from Firearms Services. They will also be able to help provide relevant information for importing firearms into Tasmania. They will also be able to tell you which species you can legally hunt as a visitor. 
According to the Department of Primary Industries, Water and Environment (DPIPWE) you can hunt invasive species including birds and mammals all year round and do not require a game license. All you require is a valid firearms license. Invasive species include rabbits, hares, feral cats, feral goats, feral pigs, Indian myna birds, rainbow lorikeets, and kookaburras. However, we advise checking DPIPWE's page on invasive mammals for up-to-date information and guidelines. 
If you want to hunt fallow deer, wild duck, mutton bird, wallaby, brown quail, and pheasant in Tasmania, you will need to apply for a game license. This can be done at a Services Tasmania branch, or online. Strict seasons apply to all of these animals, and hunting is only permitted during the gazetted hunting season.
There are also several species that can be hunted under crop protection permits. While recreational hunters often assist farmers with crop protection services, it is worthwhile checking the regulations on this direct with DPIPWE and/or your farm manager. 
For more information on game management and hunting, check https://dpipwe.tas.gov.au/wildlife-management/management-of-wildlife/game-management/species-of-game or call Game Services on 03 6777 2201. 
Please note that with all of the prices included in this article, a 20 percent discount is available to holders of a valid concession or Seniors card. 
2021 recreational hunting seasons for Game Species
Wallaby
In Tasmania, while wallabies are partly protected, recreational hunters with an appropriate wallaby license can hunt Rufous (pademelon) and Bennetts wallabies year round. This is because their numbers are in abundance and they are not considered threatened. People hunt wallaby both for food and for population control. A wallaby permit costs $32.40. The 2021 permits will be valid from Monday 22 February 2021 to Sunday 20 February 2022.
Fallow deer
Fallow deer are a partly protected game species in Tasmania. To legally hunt them, you require a valid game license issued for fallow deer, whether you are hunting fallow deer on public or private land.
A fallow deer game license costs $72.90 and includes one adult male tag.
Last year, DPIPWE removed both the tagging and quota systems for antlerless fallow deer (does). This means you no longer require a physical tag, nor is there any limit to the number of antlerless deer you can take in a season. You will still need to retain some form of physical evidence of sex – ie. head and/or genitalia. 
There are two gazetted seasons for fallow deer in Tasmania:
the adult male fallow deer season, which opens on Saturday 27 February 2021 and closes on Sunday 4 April 2021. 
the antlerless fallow deer (doe) season, which opens on Monday 15 March 2021 and closes on Monday 15 November 2021. 
We recently posted about important changes that DPIPWE had made to the booking system for the 2021 fallow deer season. This applies to hunting on public land. If you wish to hunt fallow deer on private land, you will need to personally ensure that you are the land owner, or have permission to hunt fallow deer from the land owner. 
In short, access to public land for the buck season will continue to be managed through an online ballot system (which closed on 15 January 2021), while access to public land for the doe season will be managed via an online booking system. 
Duck season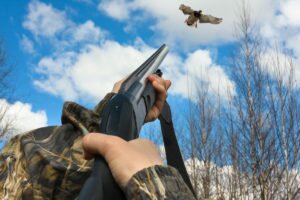 To hunt wild ducks in Tasmania, hunters must have satisfactorily completed the Waterfowl Identification Test and hold a current game license for wild ducks (which costs $32.40).
Wild ducks can only be hunted during the gazetted season, which opens on Saturday 6 March 2021 and closes on Sunday 6 June 2021.
There are only five duck species in Tasmania that are allowed to be hunted: chestnut teal, grey teal, wood duck, mountain duck and Pacific black duck. All other species of duck are protected and cannot be hunted without appropriate crop protection tags.
Wild ducks can either be hunted on private land, with the appropriate permission of the land owner, or on allocated public lands. DPIPWE have published information on where these public lands are.
Mutton Bird
There is a strong tradition around mutton birding in Tasmania, that has been practiced both by settlers and Indigenous tribes of Tasmania. Muttonbirding is the term used to describe  the seasonal harvesting of mutton bird (or short-tailed shearwater) chicks. To legally hunt mutton bird in Tasmania, you must hold a valid game license (which costs $32.40). There are also strict daily bag limits, a limited number of colonies that can be hunted, and a short window in which you can legally hunt mutton bird (season opens on Saturday 3 April 2021 and closes on Sunday 18 April 2021). The 2020 mutton bird season was interrupted by Covid-19 restrictions, which resulted in the lowest number of licenses (337) being sold since 2013. We strongly recommend checking the DPIPWE website for the most up-to-date information and regulations surrounding mutton birding. 
Brown Quail
Tasmania has three species of quail but only the brown quail is allowed to be hunted. You must hold a valid game license for brown quail (which costs $32.40). The brown quail season opens on Saturday 15 May 2021 and closes on Sunday 27 June 2021. Brown quail are distributed throughout Tasmania. Find out more about their habitat and management, as well as where they can be hunted here. 
Common pheasant
In Tasmania, the game season and game licenses for common pheasant only applies to the wild male pheasants on King Island. It does not apply to privately owned pheasant shooting properties.
Pheasant can only be hunted with a shotgun (not exceeding 12 gauge). A game license for common pheasant costs $16.20.
The season is just one weekend each year. In 2021, the season opens on Saturday 12 June 2021 and closes on Sunday 13 June 2021.
It is important that you have permission to access land for hunting on King Island.  DPIPWE strongly encourages interested hunters to become a member of the King Island Game Bird Association (phone: 0428 611 254). 
Where to hunt
In Tasmania, hunting is either done on public land or on private land with permission from the landowner.
Public land for hunting in Tasmania is managed by Parks and Wildlife Services, Hydro Tasmania, and Sustainable Timber Tasmania. The requirements for hunting on these lands, and the species available to hunt vary between the different management authorities. It is always best to check with them directly. 
For details about what public land is available to hunt, along with a more detailed look at recreational hunting in Tasmania, check out the latest copy of Game Tracks or visit the DPIPWE website.  
If you would like to hunt on private land, we cannot stress enough how important it is to have permission from the land owner. Not only is this the ethical and polite thing to do (after all, you wouldn't want someone just helping themselves to your property), it will also ensure you don't lose your license for poaching, or be charged with a serious crime (such as trespass with a firearm). Each year, a list of offenders is published in Game Tracks, so if you don't want your name being published, make sure you do the right thing! 
Check out this video we put together with some handy tips on how to gain access to private land. 
Some important FAQs about recreational hunting in Tasmania
Hunting at night using either spotlights or night vision is not allowed in Tasmania without a valid Crop Protection Permit. The regulations around this stipulates that night time commences one hour after sunset, and ends one hour before sunrise. 
The use of baits, poisons, and chemical compounds are prohibited without an appropriate permit.
Hunters are also not permitted to use live decoys, traps, snares, spears, bows and arrows, or explosives. 
While dogs can be used to flush, locate and retrieve wildlife, they cannot be used to catch, kill or injure wildlife in Tasmania. Hunting dogs can also only be used 
The law prohibits the use of solid jacketed military ammunition for hunting. 
Rabbits are classified as vermin and may be hunted at any time on Crown land, State forest or private land (with the permission of the land owner). There are no bag limits for rabbits, and they can be taken using any humane and non-prohibited method. While hares are not classified as vermin, the same conditions apply to hunting them in Tasmania. 
It is a legal requirement that firearms and ammunition must be transported in a safe manner. 
Firearms and magazines must be unloaded. 
Firearms must be in a locked container, have a trigger lock fitted, or have the bolt removed and stored in a separate, locked container.
Ammunition must be stored in a separate, locked container. 
If you are hunting on a property divided by a public road, you must ensure firearms are unloaded and transported in a safe manner every time you cross or drive along a public road. While this might seem like an inconvenience, accidents can and do happen, and an unsecured firearm on a public road presents a massive public security problem.
We find the simplest method here is simply to remove the bolt and store it in a locked glove box or ammunition container, or to fit a trigger lock.
It is also an offence (not to mention unsafe) to shoot a firearm within 250m of a house without permission of the occupier. 
As a responsible hunter, it is your responsibility to ensure you have all the correct licenses and permits for the type of hunting that you are undertaking. It is also up to you to know and adhere to any regulations that apply to the species you are hunting.  
And last, but by no means least, remember that your actions while hunting reflect on all hunters. When you act like a fool, conduct yourself in a dangerous or illegal manner, and be disrespectful to others, you make all hunters look bad, and impact on all of our ability to continue to hunt in Tasmania.
Be safe, be responsible, be ethical, be legal and be respectful. 
DISCLAIMER: All the information we have included on this post has been taken from the Department of Primary Industries, Parks, Water and Environment (DPIPWE) website. While it was correct as of the date of publication, please note that information could change, and should always be confirmed with the relevant authorities first. 
I Am Hunter wants to change the way hunting is perceived and to change the conversation from a negative one driven by anti-hunters to a positive one led by hunters.
Our goal is to help hunters become positive role models and ambassadors for hunting, while simultaneously helping non-hunters understand why hunting is important. 
You can become a supporter and help us achieve our goal and spread a positive message about hunting with the wider community. 
If you would like to know more about hunting in Tasmania, check out these related articles and podcasts.